Saying "I Love You" with a unique gift
sends the message that you see and appreciate her for who she is and desires to be. Sitting down to read is special and being able to celebrate what brings her joy with an intricate personal item like a handmade bookmark will leave a lasting impression.
.
Our bookmarks are like tiny pieces of art that tuck between the pages of your latest read.
.
And by the way - did you know that the classic first anniversary gift is supposed to be paper? Perfection!
Whether it's a fiction novel, a self-help book or a delicious memoir - when you flip open the page and see the detail and shine of a Novel Corner bookmark, you are destined to smile, relax and enjoy the experience.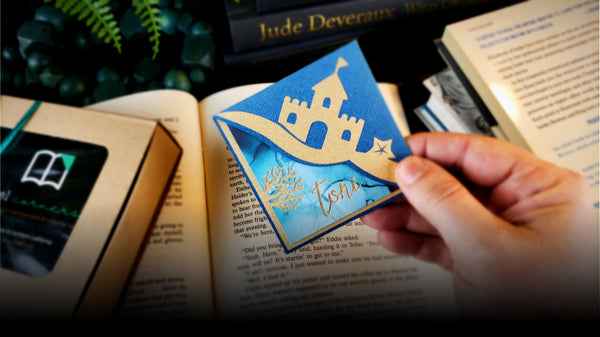 Make it a personalized gift
A bookmark can be a special gift for:
Birthdays
Christmas
Hanukah
Brides Maids gifts
Anniversaries (the first anniversary gift is traditionally designated "paper")
Teacher appreciation
Mother's day
Valentines Day
Thank you gifts
Get well gifts
Add your personalization in the notes before you add to cart. The Kraft gift box is included with the personalization.