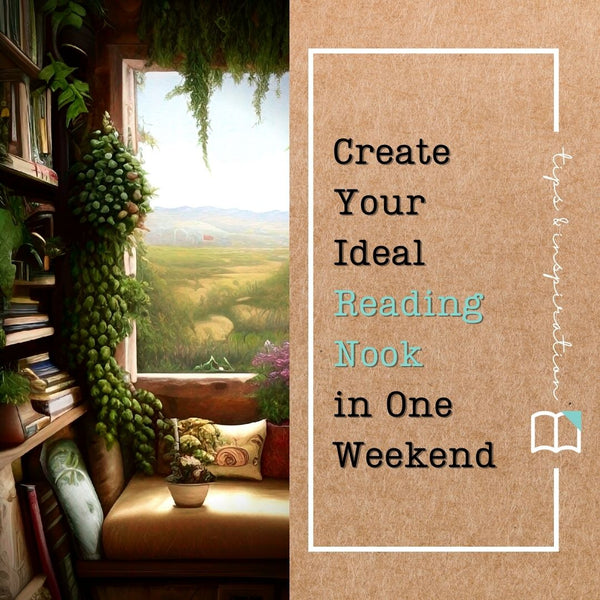 Create Your Ideal Reading Nook in One Weekend
If you love to read, it's likely that you have drooled over those beautiful photos of reading nooks or reading corners on Pinterest.
What is a reading nook? A place where you can comfortably relax and enjoy your latest read. Usually, it's small and reserved away from the chaos of high traffic areas in your home.
If you believe that a designated reading spot is out of reach, we're here to tell you that you can create your very own reading nook in just one weekend (a little online shopping ahead of time is admittedly helpful).
...
Let's do it with these 6 essential pieces.
1. Scope out the Right Spot
We would all love a custom built alcove with a picture window, full bench and a door that let's you close off the world but when you only have a short period of time to devote to the makeover (or a limited budget), you have to make the best of what you already have. Take a walk around your house. Is there a spot that is out of the way from daily traffic? Is there a corner you could style? A closet not being used? This isn't about tearing down walls or building something new - look for potential. A space you can enhance.
 ...
2. Look for a Light Source
Whether or not your spot has a window - you still need to think about adding a light fixture to illuminate your reading nook. We love lights that are tall and positioned above the area where you'll be sitting. A light on a side table will work but you are more likely to get stuck sitting in one position and leaning at odd angles which won't feel as comfortable.
While you can go out and find a standing light at a local store, I encourage you to look online to get inspiration and decide what style will look good in your space. Pay attention to measurements to make sure everything will fit okay.
 ...
3. Find a Chair You Crave
You will be spending lots of time sitting while you read so it's logical that every reading corner will need a chair or in the case of a bench, a cushion of some kind.
Not all chairs are comfortable so shopping online for this one might be tricky. If you can, go sit in a variety of chairs in person to see what style you enjoy. Pay less attention to looks and more about support and fabric. What feels good to sit on? Pick a chair that you can relax in.
Up-level: A few pillows can be helpful for back support and add great texture to the overall look of your reading space. You might also find value in an ottoman for proper lounging and a blanket to keep chilly nights at bay.
 ...
4. Seek a Side Table Side-kick
A side table is essential for your reading nook to help keep you organized. It should be large enough to hold your coffee/tea mug or water bottle, glasses, pen & notepad, even other books. Make sure it's stable but narrow enough to stay out of your way.
Up-level: Add items like coasters, candles, a charging unit, Bluetooth speaker and other storage as needed to make your reading space tailored to your needs. If your side table has hidden storage, this can be a great spot to store books.
 ...
5. Go Green with a Plant
 There's a reason every fabulous reading corner you see on Pinterest has some greenery - it's great for the brain! Plants not only add a bit of life and texture to a space, they also release oxygen. A reading corner featuring plants will feel more energizing and fresh than one without.
Being in nature has been proven as a mood lifter and stimulating for the emotional and mental well being. Bringing some nature inside, especially in your reading nook will help your mood and retention of all the fabulous reading you'll be doing. 
When looking for a plant, think about how much light it will get in your reading space. Some indoor plants are easier to care for than others so check with a local nursery for options that fit your lifestyle.
If your space is dark and you don't believe a plant can thrive there, opt for a fake item of greenery. While you won't achieve the extra boost of O2, you can still benefit from the nature vibes. Cut flowers can also be a lovely addition.
 ...
6. Elevate with Art and Inspiration
Just because you'll be focused on the words on a page in this space doesn't mean you should ignore the walls. This is where you can rise above function and really express yourself. Adding a few items of artwork or inspiration will breathe life into your new zone without any heavy lifting.
If you don't have a window, consider choosing a landscape scene that brings the outside indoors. If you tend towards abstract, pick a piece or two that you can get lost in.
You can also hang few simple shelves if you have three dimensional pieces that bring you joy. Whatever you prefer, choose elements that make you smile so they can welcome you each time you return.
...
Put it Together
You have your list...
Space in your house
Light
Chair
Side Table
Plant(s)
Art
If you've been dreaming of your very own reading nook, you can definitely achieve it in a short period of time. Start by getting some inspiration and ideas online and then head out for a day of shopping on a Saturday. Spend Sunday putting it together and celebrate with your first reading session that evening. You're going to love it! Cheers! ♥
...