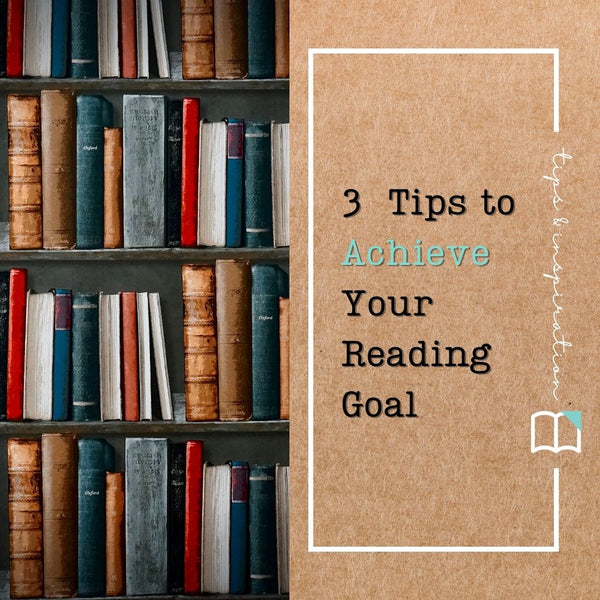 3 Tips to Achieve Your Reading Goal
One of the most popular New Year's resolutions is to "Read more." Setting a goal to read a set number of books per month is noble but just like any habit, having a strategy is the best road to success. We're happy to share these helpful tips to make your goal a reality. You've got this!
...
1. Reach for a Book - Instead of Your Phone
Adopt the habit of always carrying a book with you and when you have a free moment - instead of mindlessly scrolling or playing a game - crack it open and read a few pages. You'll be amazed how often those few moments in waiting areas or between appointments will add up to hundreds of read pages.
Great reading spots include:
Lunch/work breaks
Before Doctor's appointments 
During Car service appointments (like oil changes)
In the pick-up line at school
Over your first cup of coffee
Before bed (great if you and your spouse are reading a book together)
During child's sports practice
...
2. Stack Your Reading List Strategically
Have you made your reading list yet? If so, it's time to make sure you're giving yourself the best chance at checking off every title in a timely fashion by adding in some strategy.
Plan to change up your reading list by alternating themes and topics.
For example, you might enjoy reading memoirs but reading 2 or 3 in a row can get tedious and start to blur together. Instead, switch it up. Follow a memoir with a romance or a thriller with a self help.
When you surround yourself with many types of great writing (and even a few bad ones), you begin to notice how experiences overlap, blend and how the human condition thrives in different walks of life. Your vocabulary will expand, your appreciation for good writing will bloom and it can change your life in the most surprising ways. 
Whether you ask friends for recommendations, binge social channels like #booktok or scroll the best seller troves to fill your list - it doesn't matter. What can make a difference is checking your calendar/planner. If your goal is to read a book every month - it's easy to pinpoint themes and seasons. Pick books that fit with the moods. If you always get happy or sad around your birthday - plan to read something uplifting and supportive. If your mother died of breast cancer in August, don't read anything that will trigger you that month. Nothing will kill your reading goal faster than the emotions and stressors of real life. Reading should add to your life - not derail your wellbeing.
 ...
3. Set a Deadline (instead of a goal) and Embrace Accountability
If you don't know it already, a deadline is a magical thing. Goals are beautiful, lofty hopes that hover over us like clouds in a dreamy azure sky. Goals are ideal but the breezes of reality often shove them around or blow them beyond the horizon. By comparison, deadlines are definitive points on a map and the taxicab meter is running. When you have a deadline at work, you do what it takes to meet it. When you sign up for a marathon, you either get ready by race day or you suffer every mile. If you want to see real success (in just about anything - not just reading), you don't just make a goal - you set a deadline.
So get ready to set a deadline for your reading. Let's compare:
Goal = read 1 book a month
Deadline = Finish a book by the last day of the month or you don't get to finish it. 
The goal sounds inviting and optimistic. The deadline feels definitive, maybe even a bit harsh. Deadlines aren't meant to be mean, they are meant to have a clear finish line with no wiggle room so you do what it takes to achieve it.
Which brings us to the next part: accountability. One of the easiest ways to hold yourself accountable with a reading deadline, is to blog about the book. It doesn't have to be a long piece of writing but it's due the day after your deadline and your friends and family should be looking for the post on social media (because you've told them ahead of time). It can be very tempting to want to keep your reading to yourself but trust me - letting people know gives you (friendly) support and encouragement to achieve success. 
Conclusion
Let me be the first to applaud you for wanting to set a reading goal. Whether it's a New Year's resolution or a random month - you can do it! You got this! Try these tips and be sure to let us know how it goes. ♥
...